Weight Loss Motivation Quotes
Embarking on a weight loss journey can be an arduous endeavor, filled with moments of doubt and frustration. However, in the midst of these challenges, motivation plays a pivotal role in keeping you on track.
In this blog post, we delve into a collection of inspirational weight loss motivation quotes that will rekindle your determination and reignite your passion for achieving a healthier and happier version of yourself.
Explore the wisdom of these quotes as we delve into the profound impact they can have on your weight loss journey. Whether you're seeking encouragement, a mindset shift, or simply a boost in determination, these quotes will provide the inspiration you need to keep moving forward.
Weight Loss Quotes
The mind is everything. What you think you become | Buddha
Eat responsibly. You don't have to be a saint with your food, but you can't eat like every day is thanksgiving either | Brad Pilon
The pathway to freedom begins when we face the problem without making excuses for it | Joyce Meyer
You are never given a wish without also being given the power to make it true | Richard Bach
The only place where success comes before work is in the dictionary | Vidal Sassoon
Weight loss doesn't begin in the gym with a dumb bell; it starts in your head with a decision | Toni Sorenson
Eliminate the mindset of can't — because you can do anything | Tony Horton
Make time for it. Just get it done. Nobody ever got strong or got in shape by thinking about it. They did it | Jim Wendler
Just believe in yourself. Even if you don't, pretend that you do and, at some point, you will | Venus Williams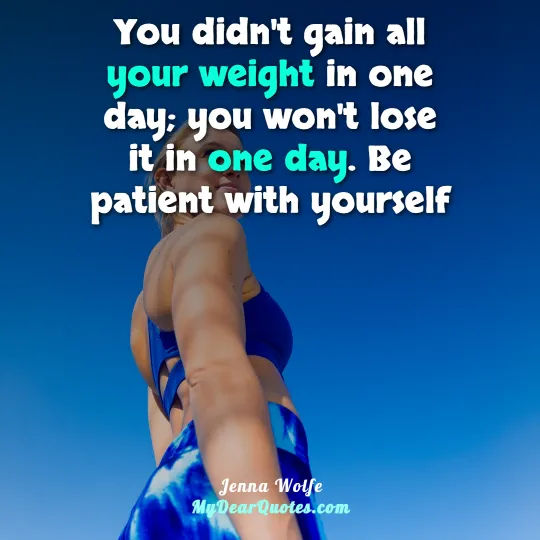 You didn't gain all your weight in one day; you won't lose it in one day. Be patient with yourself | Jenna Wolfe
Female Weight Loss Quotes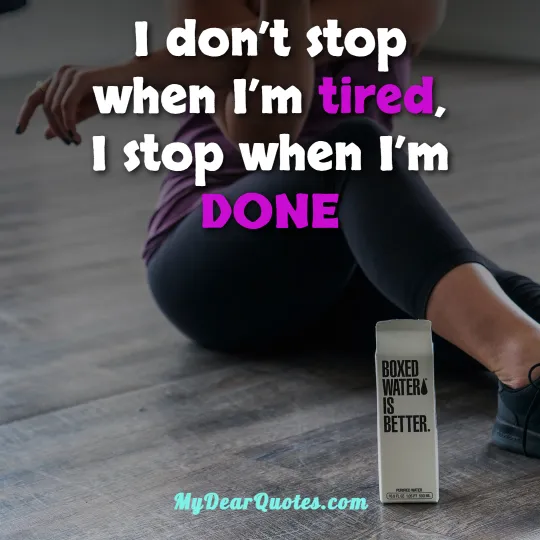 I don't stop when I'm tired, I stop when I'm DONE
The best way to predict your health is to create it
Your body hears everything your mind says. Keep going. You can do it
If you still look good at the end of your workout…you didn't work hard enough
Marathon runners don't worry about the conditions, they just run anyway
The groundwork of all happiness is health | Leigh Hunt
Don't work out because you hate your body — work out because you love it | Unknown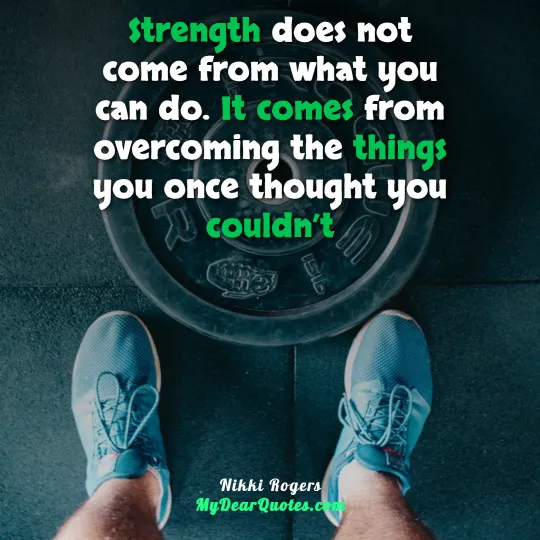 Strength does not come from what you can do. It comes from overcoming the things you once thought you couldn't | Nikki Rogers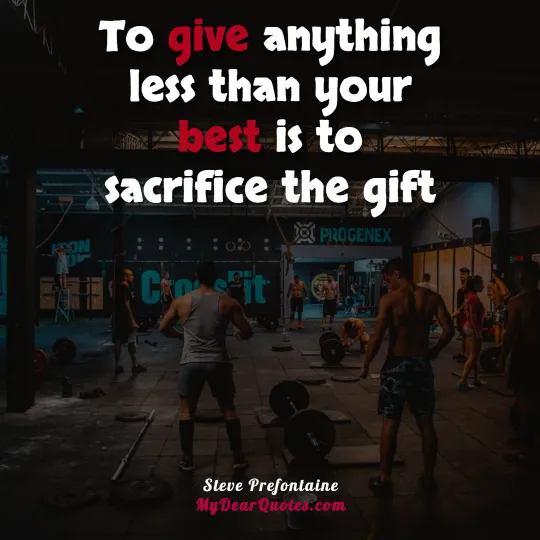 To give anything less than your best is to sacrifice the gift | Steve Prefontaine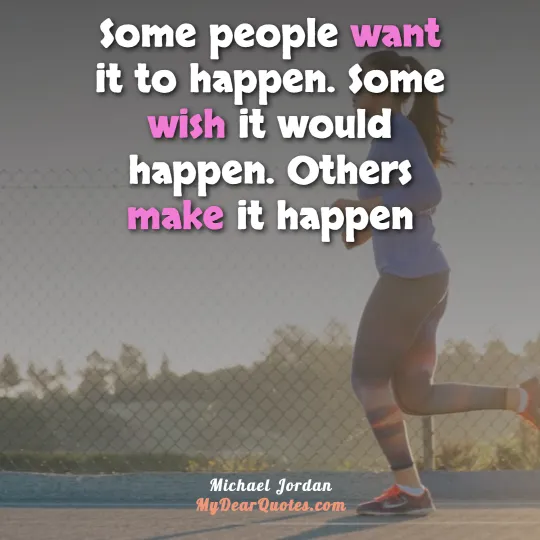 Some people want it to happen. Some wish it would happen. Others make it happen | Michael Jordan
Motivation Weight Loss Quotes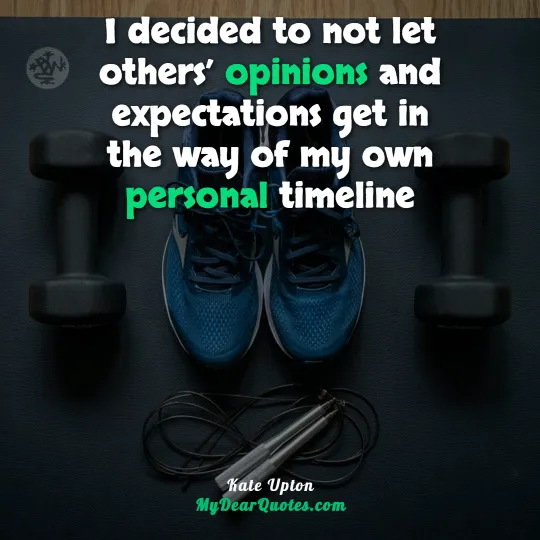 I decided to not let others' opinions and expectations get in the way of my own personal timeline | Kate Upton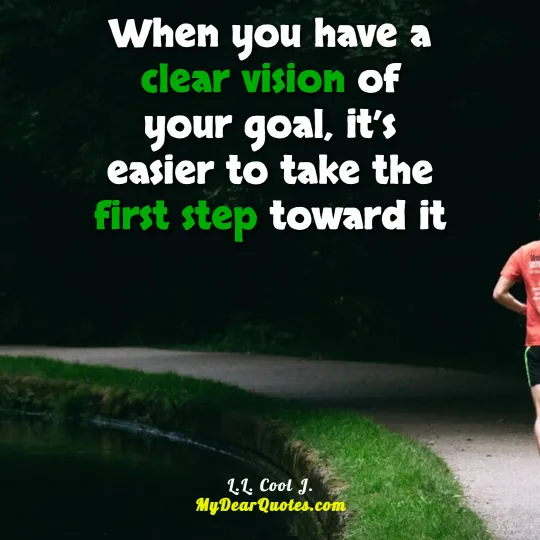 When you have a clear vision of your goal, it's easier to take the first step toward it | L.L. Cool J.
If something stands between you and your success, move it. Never be denied | Dwayne "The Rock" Johnson
The hard days are what make you stronger | Aly Raisman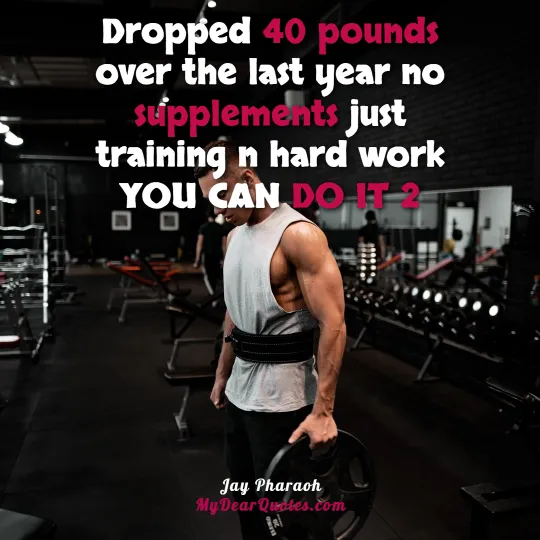 Dropped 40 pounds over the last year no supplements just training n hard work YOU CAN DO IT 2 | Jay Pharaoh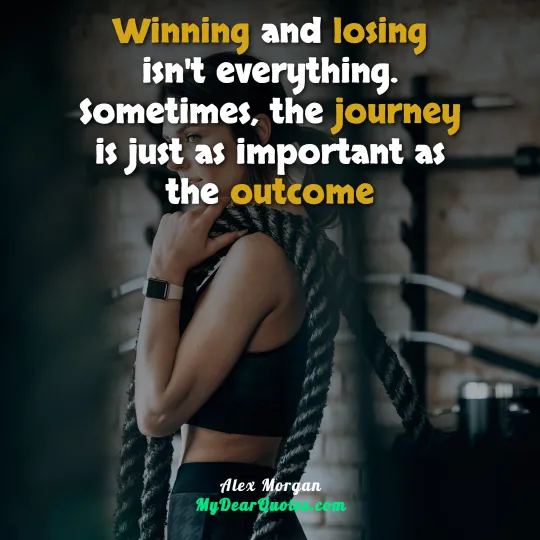 Winning and losing isn't everything. Sometimes, the journey is just as important as the outcome | Alex Morgan
It's never too late to change old habits | Florence Griffith Joyner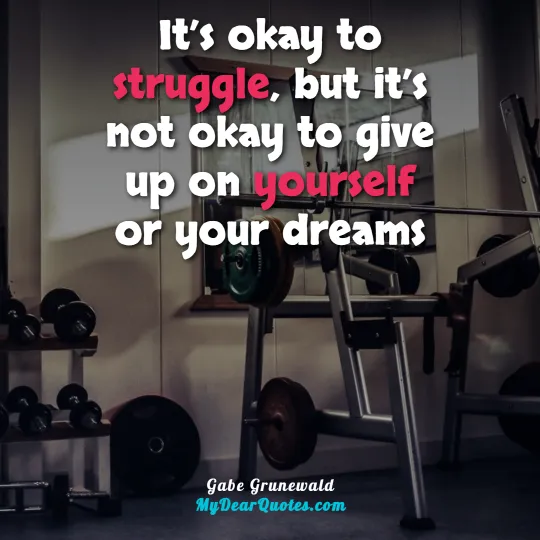 It's okay to struggle, but it's not okay to give up on yourself or your dreams | Gabe Grunewald
It's not about perfect. It's about effort. And when you bring that effort every single day, that's where transformation happens | Jillian Michaels
I've worked too hard and too long to let anything stand in the way of my goals | Mia Hamm
Find more inspiring quotes on our site. All posts have shareable images!!!
---
---